Cranbury Design Center
Cranbury Design Center, LLC specializes in the design, delivery, and installation of custom home spaces including kitchens, baths, laundry rooms, home entertainment areas, libraries and offices for clients and builders.
We provide the link that's often missing between the needs expressed by the client and the actual design space outcome; this ability to consistently bridge that critical gap is our core strength. With our years of experience in design, planning and project management we are able to deliver and build newly designed spaces on time and within budget.
Cranbury Design Center offers a level of creativity, practical experience, know-how, key strategic alliances and service that surpasses the expectations of our clients – all done with the flexibility and custom solutions needed by each individual client.
This is a full width text block. Click the edit button to change this text.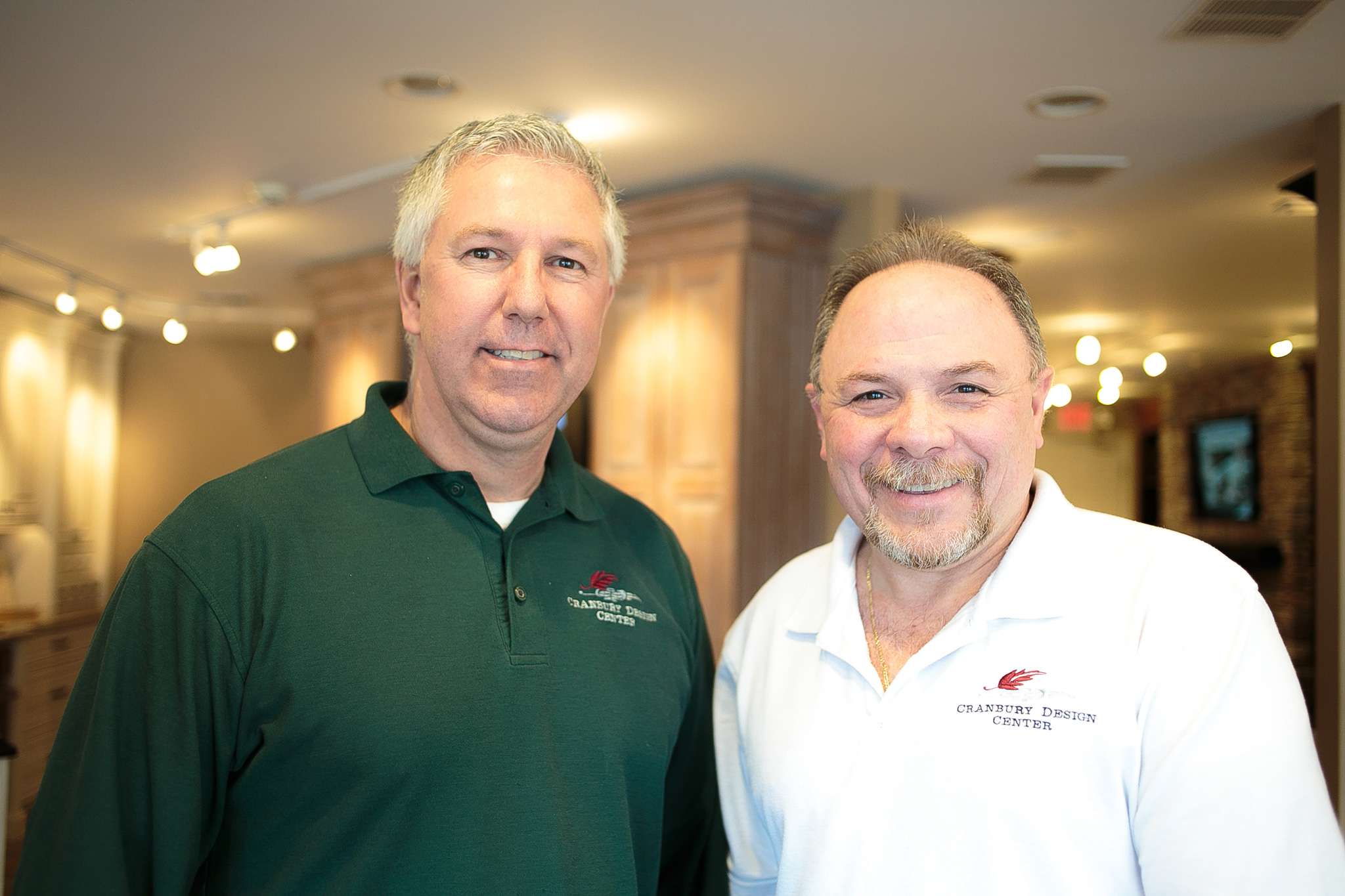 Owners Charlie Rini and Frank O'Leary both have over 30 years' experience in the design and construction business. They joined forces in 2000 to form Cranbury Design, and have successfully found a winning business concept that works… offer complete start to finish design build services on time and on budget while surpassing the needs and wishes of their clients.
Their work has been seen on the cover of House Beautiful magazine, and they have been featured in other publications and shows including Design New Jersey magazine, Better Homes and Gardens — Remodel magazine, and HGTV's "Ask Genevieve" show.
The Cranbury Design team that supports Frank and Charlie's efforts has combined over 35 years of project management, client service and design experience to efficiently and effectively work towards meeting the needs of our clients.
We all look forward to working with you.
Considering a remodel? While knowing where to start can be daunting, we will accompany you every step of the way.
Let's Get Started
Cranbury Design did a fantastic remodeling project for us. Starting with Charlie, Frank, and Melissa, everyone was friendly, considerate, and of course, talented in their field of expertise!! The job included a complete remodeling of the kitchen, powder room, laundry room, master bathroom, and replacement of the floors! We truly felt part of their family and continue to do so months after the project was completed. My family and I are thrilled with the results. The best way for me to summarize our experience is simply when I walk into our new kitchen every morning I smile!!

— Dayton, NJ

"I want to thank you, your wonderful staff and all your artisans for creating my new master bathroom. You took a barely functioning bathroom and transformed it into a simply elegant space that is a pleasure to use (and admire). It has clean and classic lines, quality materials, artisanal craftsmanship and outstanding functionality. It is absolutely beautiful. Thanks again for wonderful working experience. I enjoyed it and look forward to new projects in the future."

– Ewing, NJ

"Happy Holidays! We'll be thinking of you when we have Christmas in our new kitchen. Thanks for all your efforts. We can't be more pleased."

– Freehold, NJ

"Can't thank you enough for supporting my wife's coffee habit with the Miele coffee system."

– Millstone, NJ

"Thank you all for your hard work and professional manner in which you treat your clients."

– East Windsor, NJ

"I can't thank you enough for the beautiful job you've done in designing my kitchen.  I absolutely love it.  Everyone who comes to our home says how elegant it looks."

– Millstone Township

"The crew was really great & Frank is an excellent manager. Anything I requested the workmen did and he always checked with me about the minor details that needed to be done on site. You can use me as a reference any time."

– Monroe Township, NJ